Atlanta 3PL Facilities
Specially designed to meet all warehousing, distribution, and co-packing needs.
Every year, Atlanta Bonded Warehouse handles 400+ million cases and 6.7 million pallets across 4.3 million square feet of space throughout thirteen facilities in the Southeast.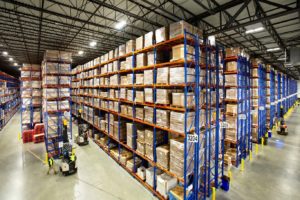 Our Atlanta campus is comprised of ten warehouse and distribution centers, stretching from the city of Kennesaw to the neighboring city of Acworth. In total, the campus boasts 248,000 pallet positions and more than 3.09 million square feet of racked, high-cube, temperature-controlled space suitable for everything ranging from food, beverages, pharmaceuticals, and other consumer packaged goods.
Located just outside of Atlanta, this warehousing campus is served by two major interstate highways (I-75 and I-85) and CSX rail, and it is also convenient to all shipping ports within the Southeast, including Savannah, Charleston, Mobile, and the major ports of Florida. Each of our ISO 9000 certified facilities provides industry-leading supply chain management systems, as well as 24/7 yard access with integrated yard management and security, and redundant ESFR systems with 450,000 gallons of on-site water storage. Kennesaw's local fire and police services offer additional peace of mind with their ISO Class 3 rating.
In addition to our Georgia warehousing facilities, we also manage facilities in Henderson, North Carolina; Greenville, Mississippi, and Columbia, South Carolina.
Use the map below to explore our facilities:
All Locations
Atlanta Campus