3PL Logistics Services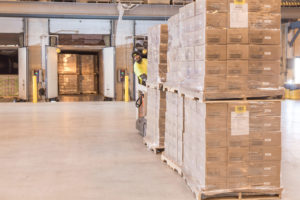 It's time to get serious about your supply chain strategy. Atlanta Bonded Warehouse offers seamlessly integrated supply chain solutions for warehousing, less-than-truckload (LTL) transportation, and co-packaging services.
If you are not already working with a third-party logistics (3PL) provider, now is the time to start! Contact us today to learn more about what Atlanta Bonded Warehouse's integrated 3PL logistics can do for you.
When it comes to warehouse operations and inventory management, flexibility and execution are critical. ABW has over 70 years of experience operating multi-client and dedicated warehousing facilities, as well as coordinating freight consolidation and cross-docking programs with our state-of-the-art warehouse management systems.
In 2021, our fifteen warehousing facilities handled 700 million cases and 9.4 million pallets across 6.4 million square feet of space. We offer both ambient and temperature-controlled warehousing, and the primary industries we serve include consumer packaged goods (CPG), confectionery, food, beverages, plastics, pharmaceutical, and nutraceuticals.
When it comes to supply chain management and order fulfillment, shipping costs can be expensive if you go it alone. Working alongside our in-house less-than-truckload (LTL) carrier, Colonial Cartage Corporation, our transportation management team handles the appointing, load-planning, dispatching, routing, and delivery services for our warehousing and pool customers. Our temperature-controlled LTL transportation logistics services are offered across 26 states, and our fleet includes over 60 tractors and 200 refrigerated trailers supported by customized shipping management software for routing and real-time visibility.
Our freight consolidation services allow our customers to save money by grouping their LTL orders with the LTL orders of other customers to the same destination — a critical need as more and more retailers request orders that are smaller and more frequent. We carry out weekly scheduled deliveries to virtually every retailer, distributor, wholesaler, and drug chain throughout our service area, including Publix, Kroger, Meijer, HEB, Target, Wal-Mart, Costco, Sam's Club, CVS, Walgreens, Rite Aid, and more.
A co-packaging partnership offers many business advantages, from seamless scalability and more manufacturing flexibility to faster response to demand changes and lower overall costs. At Atlanta Bonded Warehouse, our co-packaging customers enjoy the cost-saving benefits of outsourcing their seasonal, labor-intensive, and space-consuming secondary packaging and repackaging efforts.
Our co-packaging services have grown 15-20 percent year over year, and we've grown to meet that demand by investing in the resources, equipment, and expertise to meet the high-volume, seasonal needs of our customers.
How Our 3PL Logistics Solutions Benefit You
Focus on what you do best. Outsourcing your supply chain logistics to Atlanta Bonded Warehouse allows you to focus your energy on running and growing your core business.
Save money on overhead. Bringing on a 3PL partner means there is no need to maintain a pricey warehouse or manage staffing operations. We take care of everything for you at a vastly more affordable price point.
Happy customers. With a 3PL warehousing provider like Atlanta Bonded Warehouse, your customers enjoy more accurate order fulfillment, fewer backorders, and more transparent, clear communication.
Advanced 3PL logistics technology. Never worry about continuous investment in logistics software. As an industry leader in 3PL services, Atlanta Bonded Warehouses maintains state-of-the-art systems to ensure your company is always ahead of the curve.
Why Choose Atlanta Bonded Warehouse as Your Third-Party Logistics Company?
Atlanta Bonded Warehouse comes to the table with more than 70 years of experience as a third-party logistics provider. Our goal is to provide our 3PL customers with total satisfaction through continuous improvement and technological innovation. We accomplish this by focusing on teamwork, integrity, and accountability — all within a safe and efficient working environment.
Long-term, mutually beneficial partnerships are the heart of our business, and we have spent decades working hard to serve and build tremendous value for our customers. We're proud to be the recipient of the following 3PL industry recognitions and awards:
Hershey DC Operator of the Year: six consecutive years
Wrigley Lifetime Achievement Award
Named a Top 100 3PL and Cold Storage Provider by Food Logistics Magazine: 7 consecutive years
Named a Top 100 3PL by Inbound Logistics Magazine: 7 consecutive years
Named Barilla's Warehouse Partner of the Year for 2015, 2016 and 2017
CaseStack's Warehouse of the Year for 2017 and 2018
Whether you're in search of warehouse space, LTL shipping solutions or efficient-packaging services, Atlanta Bonded Warehouse offers state-of-the-art, integrated supply chain solutions that get the job done and offer outstanding cost savings.
Ready to maximize supply chain efficiency?
Contact us today to consult with one of our logistics operations experts and learn about how our 3PL logistics services can innovate your company's bottom line.
3PL Frequently Asked Questions
What is the difference between LTL and TL shipping?
LTL refers to orders of less-than-truckload quantity typically co-mingled with other similar-sized shipments headed for the same destination. Truckload (TL) shipping is for larger orders that require all or most of the capacity of a trailer. However, in certain circumstances (usually dictated by the receiver or for shippers to avoid compliance issues), shippers will ship LTL orders by themselves as TL to expedite delivery.
How does freight consolidation work?
Freight consolidation commingles multiple LTL shipments from various shippers into a single truckload to create one large shipment headed for the same location. The shipper of each LTL shipment benefits from lower costs through the proration of TL rates, faster transit times, and reduced risks of damaged products via multiple handlings.
The order-to-delivery cycle improves since there is no need for smaller shippers to wait for orders to fill a TL to that destination before shipping or for LTL carriers to trap freight to build a more efficient drop or shipment.
How large is ABW's LTL and TL fleet?
Our in-house, asset-based carrier, Colonial Cartage, has more than 70 power units and 220 refrigerated and dry trailers. All equipment is food-grade and uses electronic logging devices (ELDs) for drivers and GPS systems for tracking equipment. Colonial's truck management system (TMS) has been integrated with ABW's warehouse management system (Blue Yonder) for increased order visibility.
Cross-docking is the transfer of products from a truck or rail car to one or more outbound vehicles across a staging area within a short time — eliminating the additional handling and storage required in a standard warehousing process. This strategy helps reduce costs, shortens the delivery cycle, and reduces the risk of damage by limiting multiple handlings.
Atlanta Bonded Warehouse handles cross-dock for many customers. We serve as a pool point for cross-docked orders for our in-house less-than-truckload (LTL) carrier, Colonial Cartage Corporation.




How large is Atlanta Bonded Warehouse's transportation service area?
Our in-house, asset-based carrier, Colonial Cartage Corporation, covers 26 states throughout the Southeast, Southwest, Midwest, Upper Midwest, and the Great Plains. In 2021, Colonial handled 42,000 orders composed of over 220 million pounds of freight.
What is a temperature-controlled warehouse?
A temperature-controlled warehouse uses heating or cooling systems (HVAC) to maintain exact temperature ranges for storing perishable or non-perishable goods before they are shipped to retailers.
Temperature-controlled warehousing helps protect products from potential spoilage, damage, or contamination caused by fluctuating temperatures. In a temperature-controlled environment, products are more likely to retain their quality, have an extended shelf life, and stay safe for human use or consumption.
Different products require storage at different temperature ranges, which include ambient (40°F–90°F), mid-temperature (55°F–75°F), refrigerated (28°F–42°F), or frozen (0°F and below)
What are ABW's warehouse temperatures?
Atlanta Bonded Warehouse offers temperature-controlled warehousing solutions for products requiring storage at mid-temperature (55°F–75°F) ranges. We also provide storage at ambient (or "room") temperatures (40°F–90°F). Examples of mid-temp warehousing products include pharmaceuticals and nutraceuticals, confectionery products, snacks, and beverages, and other products susceptible to high heat and humidity such as rice, pasta, flour, spices, and packaging.
Ambient temperature warehousing solutions are typically dry, clean, and well-ventilated – ideal for storing non-perishable products such as bagged, canned, or glass-pack goods, packaging, and CPG products.
ABW does not offer temperature-controlled warehousing solutions for fresh produce, refrigerated, or frozen products needing to be stored below 50°F.
What is the difference between co-packaging and co-manufacturing?
Co-packaging, contract packaging, and co-manufacturing are three terms often confused.
What is co-packaging?
Co-packaging, short for "contract packaging," encompasses two distinct applications in the food packaging process. Co-packaging can refer to taking a finished food item and putting it in its primary package – putting a candy bar in its wrapper, for example. Co-packaging can also include secondary packaging, where the wrapped candy bar is placed in a carton or case, or cartons/cases are packed into a built retail display.
What is co-manufacturing?
Co-manufacturing is the actual mixing, blending, baking, or cooking in the food production process. A co-manufacturer can be hired by another food processor looking for additional line capacity, a unique processing skill, or the necessary equipment for creating a finished product. Or a co-manufacturer can be engaged by a "virtual" food company that outsources all of its food processing. More often than not, the co-manufacturer puts the finished product into its primary package. However, there are situations where the "co-man" will ship the finished goods in bulk to a co-packager, who will put the product in its primary packaging.
Benefits of outsourced packaging
Outsourcing packaging needs to 3PLs or co-manufacturers gives food processors the flexibility to scale to meet demand. Food processors and CPG manufacturers frequently outsource their secondary packaging to contract packagers and some/all of their production to co-manufacturers if they don't have the appropriate facilities, resources, and staffing to manage these operations in-house.
Why should I use a co-packager?
Outsourced co-packaging services give processors and manufacturers more flexibility to prepare their products for retail shelves, display, or promotion. Third-party co-packagers have the flexibility to change lines from day to day or even shift to shift.
Co-packagers frequently utilize high-volume and high-speed equipment to bag, pack, wrap, or carton both "naked" products and products already in their primary package. These products are now ready for retail shipment or secondary packaging into SRPs, counter displays, powerwings, retail shippers, or quarter, half, or full pallet displays.
Can I outsource my co-manufacturing to ABW?
Atlanta Bonded Warehouse offers our clients outsourced co-packaging (or contract packaging) services for secondary packaging or kitting. We do not provide solutions for our clients that include product manufacturing.
However, we do have the line capacity, labor, quality control, and management infrastructure in place to handle all your secondary packaging and kitting requirements.

Our co-packaging applications also include repackaging from bulk, retail-ready packaging, and promotional packaging into new packaging or configurations for product launches or promotional campaigns.